CCUS Commercial Deployment: What Will It Take To Make It Happen?
December 7, 2023 @ 8:30 am – 12:00 pm CDT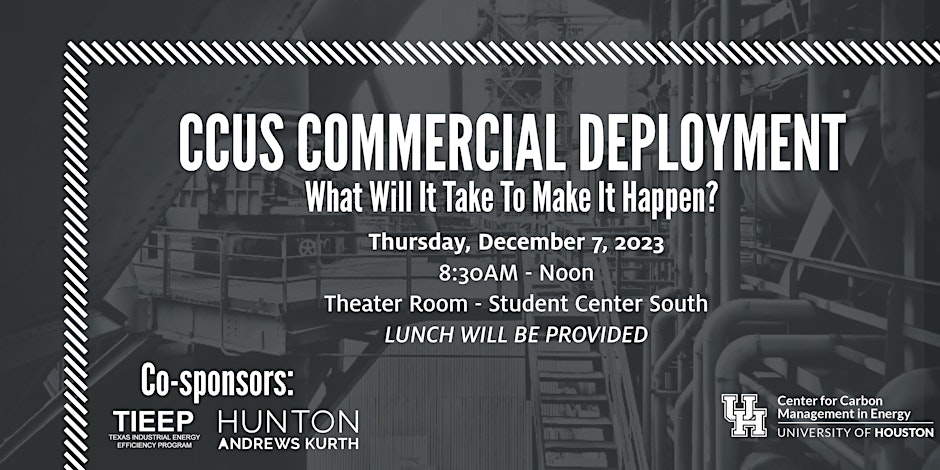 UH Energy Presents
2023 – 2024 Energy Symposium Series | Critical Issues in Energy
CCUS Commercial Deployment: What Will It Take To Make It Happen?
About this event:
The Greater Houston region has emerged as a global focus area for accelerating carbon capture, utilization and storage research and technology. However, questions emerge in terms of the required infrastructure and regulatory policy needed to realize climate goals.
To that end, the CCS Alliance and the Greater Houston Partnership's Houston Energy Transition Initiative commissioned UH Energy and its Center for Carbon Management in Energy (CCME) to assess the necessary infrastructure that would be required for such broad commercial deployment of CCUS. Through this research and analysis comes an essential roadmap that our region – and others – can follow in order to achieve these ambitious goals. We urge members of industry and our community to join us Dec. 7 at the University of Houston for a half-day symposium where we will roll out the findings along with key insights from panelists and guest speakers that will aid this endeavor. Lunch will be served and a networking opportunity will follow the presentations.
AGENDA:
Welcome, Introduction & CCUS Infrastructure Study Overview
Chuck McConnell – CCME Executive Director, UH Energy | University of Houston
PANELISTS:
PANEL ONE: CCUS Success At ADM (Decatur, Ill.)
Jonathan "Jon" Wiens – CEO, Warwick Carbon Solutions
Colin Graves – VP of Innovation, ADM
Matthew "Matt" Murphy – Senior Consultant, Mac Strategies
Fred Eames – Partner, Hunton Andrews Kurth
Chuck McConnell – Moderator
PANEL TWO: CO2 Pipeline Challenges
Nicolas "Nick" Medina – Public & Government Affairs Manager, ExxonMobil
Dan Cole – VP CCUS Commercial Development & Governmental Relations, Denbury
Elizabeth Worrell – Managing Director & Chief Legal Counsel, Pipeline Contractors Association
Cindy Yeilding (Moderator) – NE Director, Denbury
Closing Remarks
LUNCH 12pm-1pm
Register
Learn more and register here!